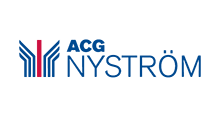 ACG Nyström AB is an international company that markets advanced equipment, systems and knowledge to the manufacturing industry.
We add value throughout the textile process, from product development, technical design and cutting to joining with sewing and other techniques as well as refining with the help of embroidery and textile printing. We help our customers become better and more competitive throughout the textile development / production process.
In September 2020, ACG Fyrtal AB became part of ACG Nyström AB and we expanded our range with high-quality solutions for labeling, identification solutions for signs, decals and various types of hard products for both consumers and industry, and with our unique 3sixty bottle printer.